Property HOTPICK of the WEEK!
Right folks, today I've something a little different to show you... it's off to Leicester this time, where there's a very big property with bags of potential!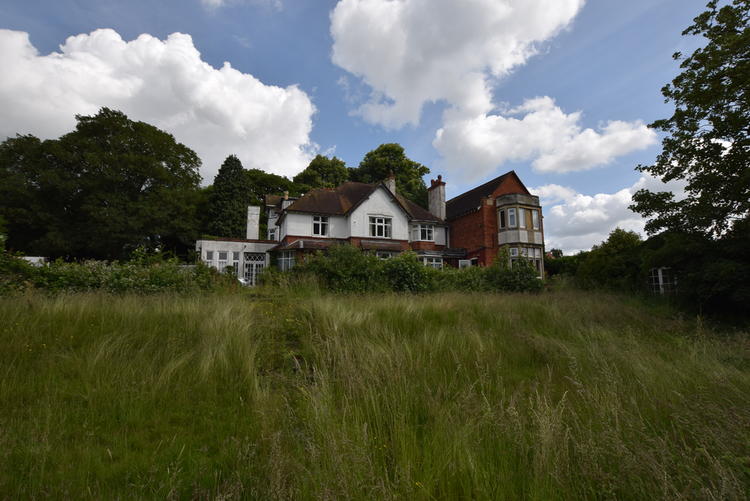 Initially a Victorian residence, followed by division into multiple flats, and finally having undergone a conversion into the current form as a 17 bedroom care home, this property is as good as a blank canvas due to being suited to a great variety of purposes. With a total floor area of around 650 sqm, there's loads of space to go around in there, as well as a good amount of outside space too. This property will clearly have plenty potential for continued use as a care home, but it's also currently subject to a planning application for change of use back to residential. Loads of possibilities here.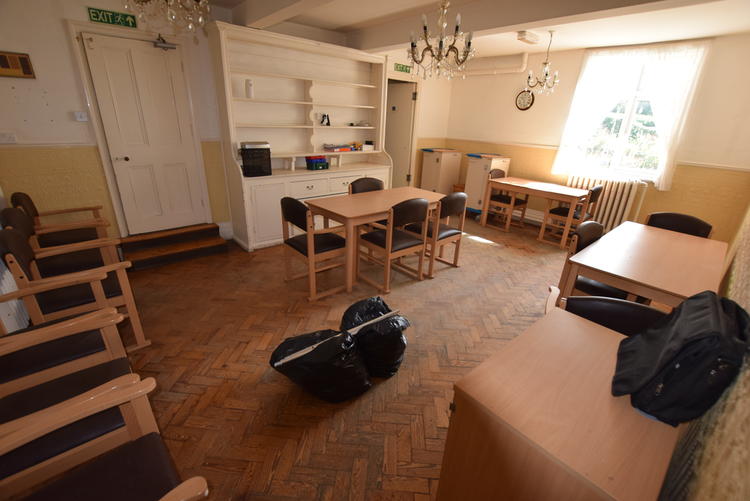 Now, while I'd normally do a little virtual tour of a property, there really is a few too many rooms in this one for that to be practical, but I'll muddle through in a more general manner I think, since there's many multiples of similar rooms and a fairly standard level of condition throughout all the areas shown in the images.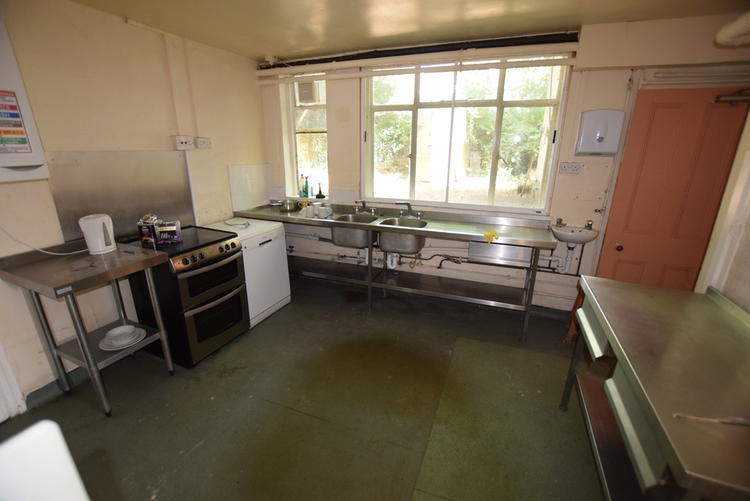 I'm very pleased to therefore announce that this one's a fantastic property for even the less experienced given that it's been remarkably well maintained. Ok, so there's definitely some spots that are much in need of a little updating, but for the most part it's clean, tidy, and the decor is mostly neutral and in no need of urgent attention. So, while there's plenty scope for an investor or developer to wade in there and perform a quick update or conversion, it's the idea of restoring residential use that most catches my interest here.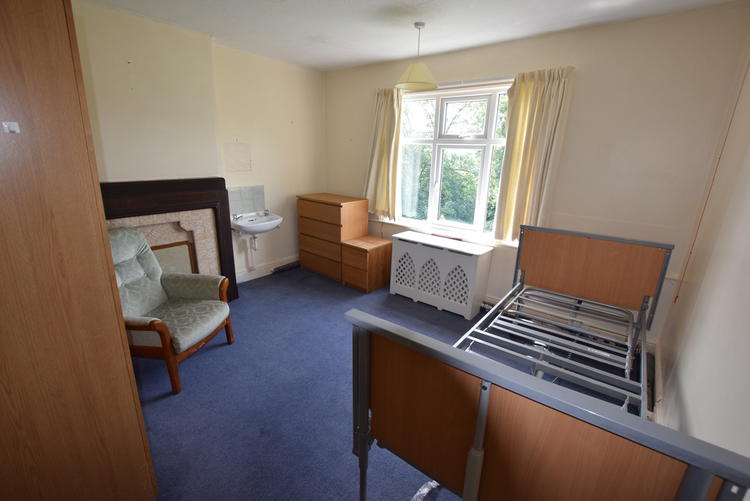 Ok, so this property is clearly far too large for most people, but if you have the budget then there's loads of options here. Yes, you could turn it back into a single residence with goodness knows how many bedrooms, but it's also very possible to look at converting a portion for your own use while the remainder could be converted into a second large property or multiple smaller flats that could be sold on or rented out. It's also very achievable to imagine this as an incredible B&B/hotel with likely only minimal efforts required to convert from a care home. Planning permissions required for any of these suggestions of course...
Personally I really like the idea of perhaps retaining either the main building, or an entire single floor, to a personal residence, with the remainder turned into either a couple of smaller properties to sell/rent, or even as accommodation for a loved one or two...
How handy would a extensive ground floor flat be for that older/dependant relative who needs their independence while also having a helping hand nearby in case needed? Or perhaps you'd rather retain the ground floor and grounds as your main home, while dividing the upper floor into 1/2/3 flats for the teens or the grown up kids to live in/rent/buy as a means to give them a little independence and space of their own until they can afford to look for a home further afield someday?
Anyway, you get the idea, just because this property is perhaps a little larger than you may feel you need, there's loads of ways that extra space can be put to good use either helping loved ones, or in generating income. Whatever the plan is, this property is definitely liveable at the moment, and that means you're easily able to consider moving in and updating/converting(stpp) around you while staying there.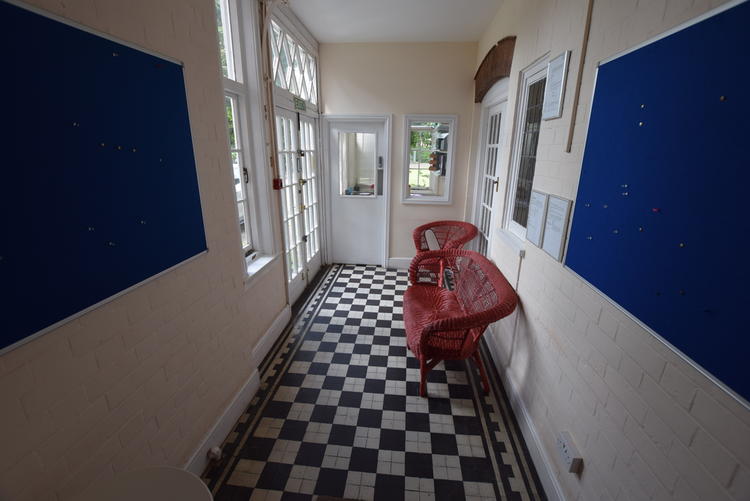 There's some fabby features on show that should appeal to a variety of buyers, my particular favourite being the beautiful black and white chequered floor inside one of the ground floor entrances shown. I can't say for certain if they're original Victorian flagstones or anything like that, but they sure are pretty, especially with the smart border around them, and at a glance they definitely look like they're originals. Either way, I love them, and for me they'd be right at the top of my save list!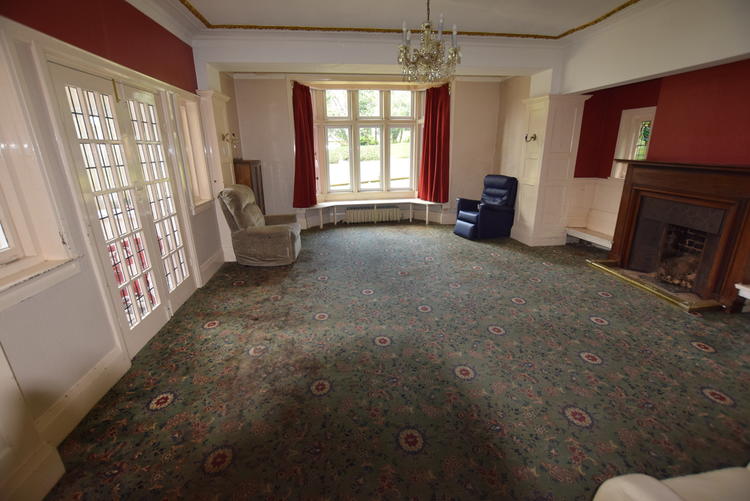 Another feature I picked up on was the multitude of chandeliers on show in the pics... they're only present in the living areas and main hallway/staircase by the look of things, but with at least one example of three in a single room, there's certainly a good few of them here! Another clear feature is the high ceilings, something often missing when purchasing a newer build, but in this property the ceilings even appear high on the second floor too.
There's some charming examples of coving/ceiling decoration in places as well, some with an original look about them too. An excellent example being on a curved green ceiling(yes, there's a few spots are a little less 'neutral' than the rest!!) that shows some lovely ceiling decoration that appears to have unfortunately been halved by a dividing wall... I'd definitely be curious to discover if the partition could be removed and the ceiling restored. The only way to discover if the ceiling is complete would be to look within the partition wall, and it would be an impressive feature to see the entire arched decorative ceiling restored to it's former glory :-)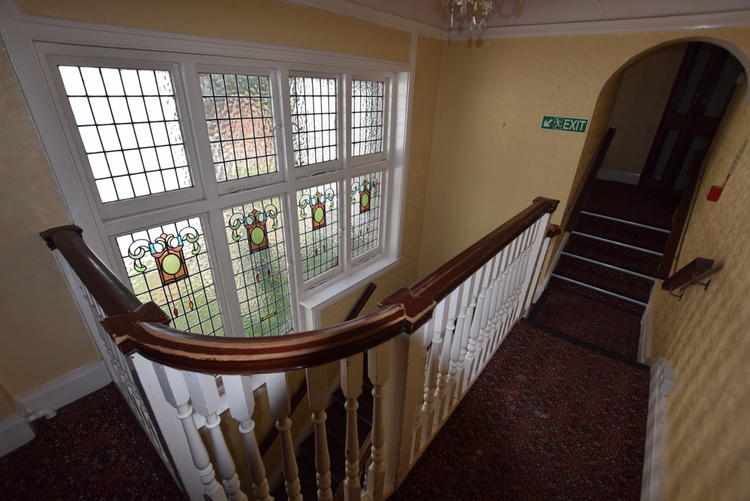 I've also spotted another personal favourite in this property... stained glass! There's a wonderful wall of stained glass in one of the stairways, and wow, it's a stunning feature that's been only subtly used with mostly clear glass surrounding the designs. Really smart and tasteful methinks. Likewise, there are some stunning feature fireplaces throughout the property, all with lovely surrounds that are not overly decorative or ornate, allowing the fireplace itself to shine brightest.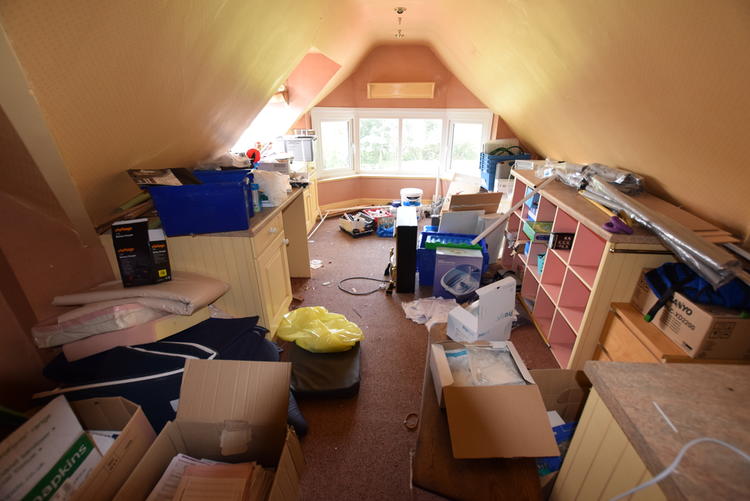 Lastly, I've got to mention that incredible upper floor room with the enormous bay window and angled ceilings. Wow, it's a potential showstopper of a room that could, with a lick of paint and some tasteful dressing, become an incredible guest bedroom or master bedroom. It's amazing how much light pours into this room in the eaves... it's not often I see such large windows in a room of this type, and it appears there's a second window off to the side as well, so there's double the potential to wake up to some pretty special views from this high vantage point.
So, what do you think? I definitely see this one through eyes of a potential residential owner, but there's opportunity in many other ways too. There's not much major work required unless you're removing walls etc to change the layout and reduce those many bedrooms to fewer large rooms instead... but even then, it's in a perfectly liveable state as it is and could be updated in smaller stages with ease. There's many great original features that mostly only require a little buffing up, and a couple of opportunities to perhaps recover and restore some additional features.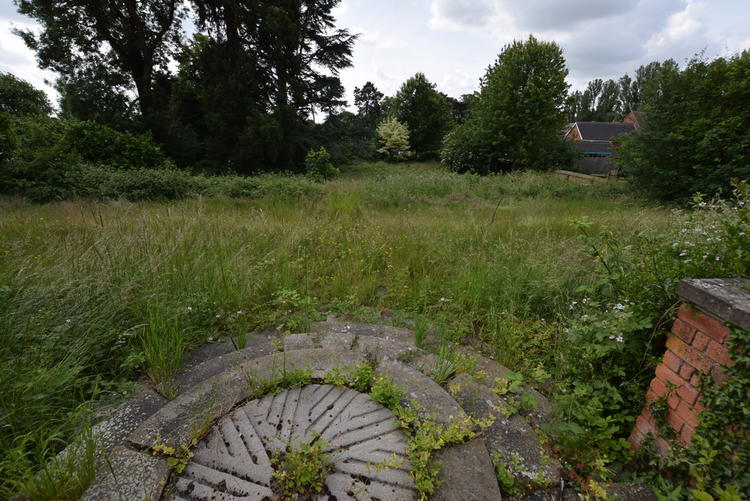 As for outside, it's very much a blank canvas folks. I'd perhaps advise a ride on mower though, it's a good chunk of ground that needs a decent amount of tlc to tame it, but it's nothing too out of control. There's not really much in there, so anyone with green fingers that's looking for a clean slate where they can design that dream garden from scratch, here's your chance! I'd definitely be considering a kitchen garden if it were me. What about you?
This one's sure to have interest from various types of buyer come auction day, and I do wonder what it's to become... another care home? Multiple smaller flats for sale/rent? Or perhaps some kind of large family home? Maybe one with annex accommodation for one or more loved ones as I suggested above? It's definitely a property with character regardless of the outcome! And probably the most important bit.... it's for auction on 9th AUGUST with SDL AUCTIONS LEICESTERSHIRE.