STUNNING contemporary home for auction
Hey everyone, I've spotted a fab four bedroom that's worth taking a closer look at down in Buckinghamshire... and if you're looking for a move with minimum fuss then this brand new contemporary home is ideal :)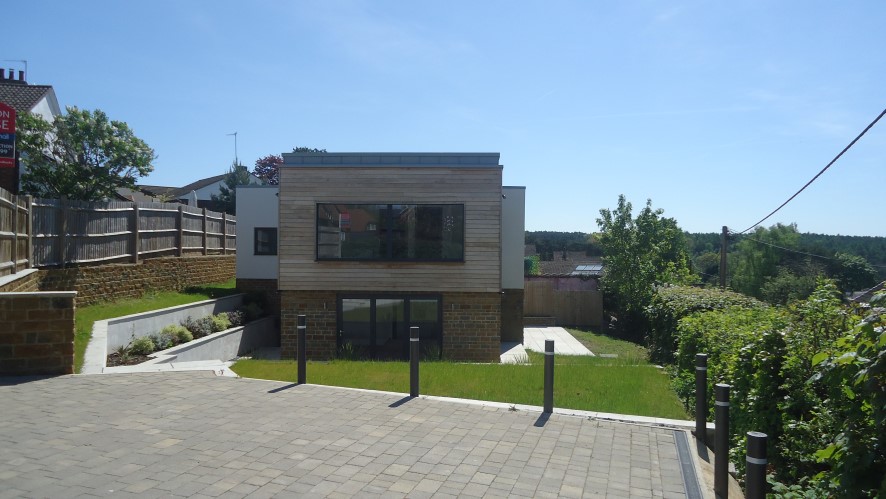 Apparently this one has won an award for the excellent construction and workmanship... and that doesn't surprise me in the slightest given how immaculate this property looks from every location and angle shown! It's absolutely stunning throughout, and while sometimes the extensive blank slate in brand new properties can be a bit repetitive after looking at multiple rooms, there really are tons of fab features here to keep the interest level high throughout.
I think we really do need to start with the exterior of this one though, it has such an unusual look, but I love that about this property. It has been designed to make the most of the available space, with spectacular walls of glass allowing maximum natural light to reach as much as possible of the 2000sq ft of accommodation on offer. This property is nothing like the norm in it's outward appearance... It seems a bit box like and minimalist at the first glance, but then you start taking in the textures and the details that have been so thoughtfully applied here, and you can then truly appreciate that it's quite beautiful in it's own unique way :o)
This also holds true with the interior. It's when you go back to look through the images a second time that you really begin to see how wonderful this contemporary home is, with careful consideration taken in all aspects of the design. This isn't a carbon copy of multiple other properties you've seen, it has quite the personality that is all its own, and has been finished to a very high standard throughout with high end fixtures as well as some great modern tech too.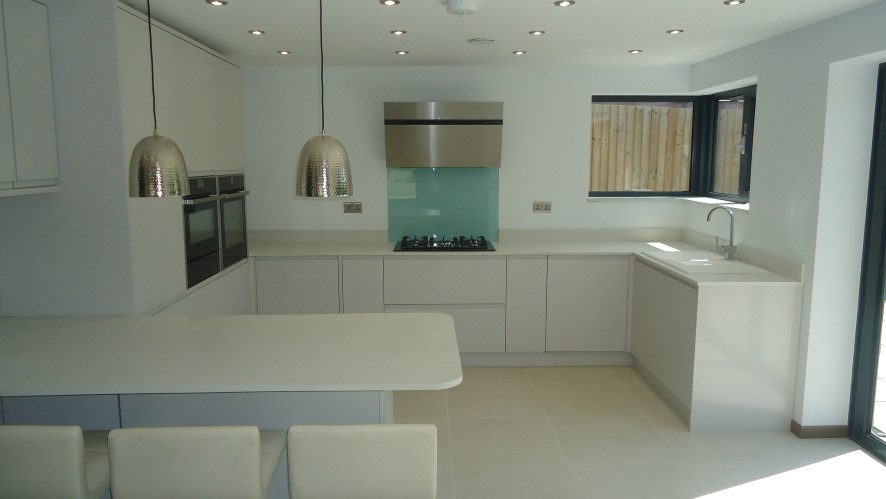 Being a new build, most rooms are a fairly blank canvas, so I'm not going to do my usual tour round the property to discuss it's finer points. It's ideal to decorate how you please, or can retain the pristine white to allow for some excellent themes such as monochrome or using some super bright pops of colour to create you ideal atmosphere and aesthetic.
What I do want to take some time to show you are the amazing features included in the design. The first thing to grab my eye inside this one was the flooring used downstairs. WOW, that high quality engineered oak flooring is a feature all by itself, adding incredible warmth to a large room with only white on the walls. Where the oak flooring ends there is a gorgeous kitchen of modern styling that's somehow managing to balance sleek white minimalism with the inclusion everything you could possibly need to cook, bake, and entertain your friends/family, with the excellent addition of a rather neat breakfast bar area with funky seating too!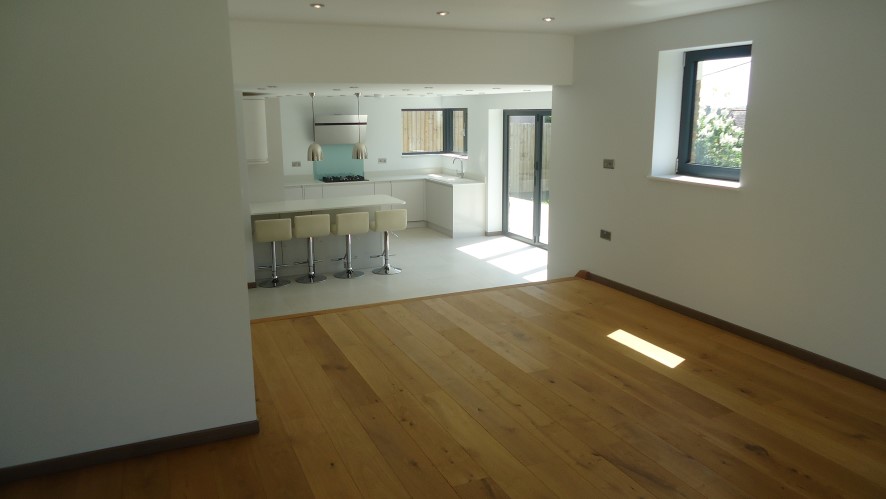 Upstairs the fixtures and fittings are equally fab, with the main bathroom and guest en suite both being sleek, modern, minimalist and stylish in appearance. I'm loving the free standing bath in particular. Same thing with the downstairs WC... all three rooms have similar aesthetics, yet each has small differences to make them unique. In particular there has been a feature made of the sinks, all of which are funky but very individual in their shape and design so that the rooms feel different and not like carbon copies of each other.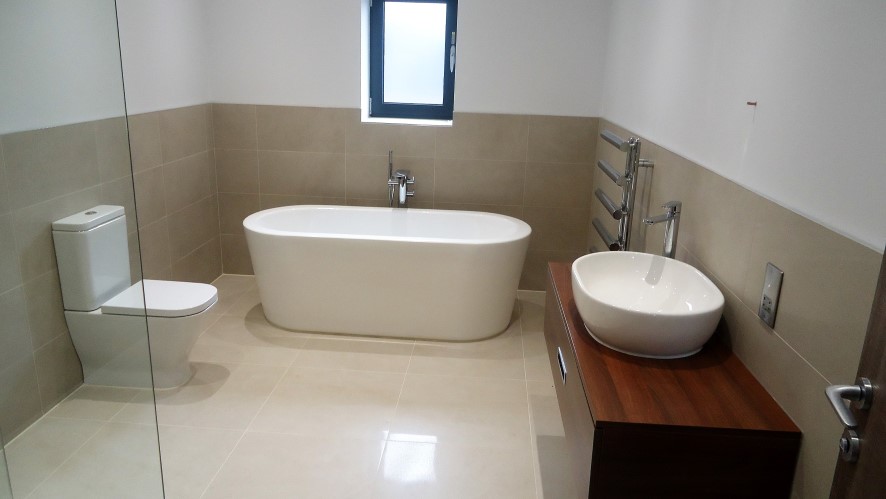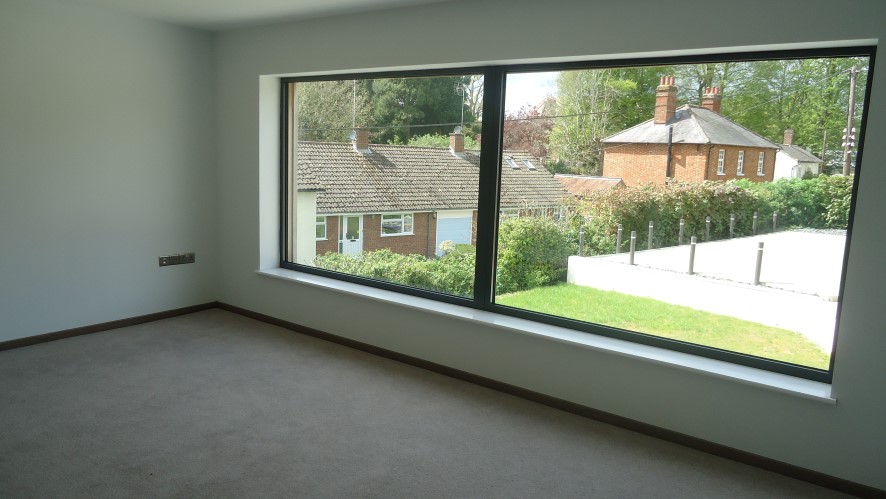 I think that overall that is my favourite theme in this property... the way the style is consistent throughout, but every single room is unique in some way. All have light streaming in from well placed windows, but none have the same placement/size/shape as the windows in any other room. The master bedroom has the most incredible extra large window taking up most of a wall, and I assume that one is giving the best views from the property, and it is competing in scale with only the large wall of glazed bi-folding doors in the main living area that open up to extend the living space out into the garden. The designers really have thought through every single angle, detail, and fixture, and it's a stunning end result that's on show here.
So, what do you guys think?
If I haven't fully won you over just yet, there's a little bit of tech I've yet to discuss that might perhaps do the trick... this property also features under floor heating and a heat recovery system. It's got lovely little spot lights recessed into ceilings throughout all of the ceilings shown, allowing you to maximum ability to set the lighting to just the right levels to suit your needs. And last but not least, there's a category 5 network hub installed too... which admittedly I've had to read up on a bit as it's not something I come across often, and it's definitely a higher level of tech than I personally use at home! :op
Seems it's the latest way to access internet in your home, providing faster and safer access. I'm afraid that's about as much as I know about it so far personally, but it certainly is enough to prove to me that this property is fitted and kitted out with everything you could possibly need, and probably also has one or two things you didn't even know that you needed or wanted!
This property really is one of a kind and it's certainly caught my interest in a big way... if you're intrigued too then you can find this one at auction on Tuesday 18th June with Auction House Robinson & Hall. You will not see something this individual and unique every day folks, so please do check this one out before it's too late! :)