SDL Auctions North West's first 2018 auction a success
In the first SDL Auctions North West auction of 2018 at the AJ Bell Stadium in Manchester on 28 February, residential properties with potential once again proved popular.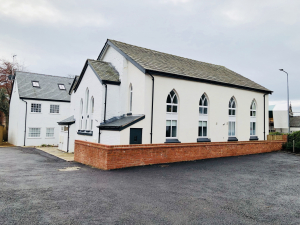 A good example was 12-14 Slater Street in Bolton, a fire-damaged two bedroomed end of terrace property which had a guide price of £39,000+ and eventually sold for £61,000.
Andy Thompson, senior valuer at SDL Auctions North West, said: "This was a lot with opportunities. It was formerly two properties and was converted into one, so offers a considerable amount of space. Despite some fire damage, it was clearly identified as a project with potential."
At the AJ Bell Stadium, good prices were also achieved for Apartment 9, 180a Wilmslow Road in Handforth which sold for £166,500 from a guide price of £145,000+. This was described as a stunning three bedroomed apartment in a development of 12 luxury apartments within a Grade II façade.
Another popular lot was 305 Cheetham Hill Road in Manchester which sold for £132,500 from a guide price of £115,000+. A large three bedroomed, semi-detached property which has what was a fourth bedroom now converted to a wet room, it is ideally located close to Manchester city centre.
Other North West properties that sold well included 47 Crossall Street in Macclesfield. Currently a mixed use property, it is situated in a predominantly residential part of Macclesfield, close to the town centre and, subject to planning, could be converted fully into a residential home.
Andy Thompson added: "We are always pleased to talk to individuals with potential lots for our future auctions. With our experience, we can give you an independent appraisal and guide you through the process of buying and selling, whether you are a first time buyer or seller, or an old hand, well-experienced in the auction room.
"Whether it is a site with development potential, a dilapidated home or a house of multiple occupation being offered as an investment opportunity, all types of property can be sold by auction.
"There are many advantages with selling by auction. It is quick and secure, the whole process can take as little as eight weeks and when the hammer falls your property is sold, with completion taking place 28 days later.
"Our auctions regularly attract private buyers, investors, developers and property dealers, all interested in buying.
"In many instances, selling at auction could prove the best way to sell your property," he said.
SDL Auctions' first 2018 auctions in Manchester and Chester on consecutive days raised a total of £2.5 million.