Not ONE, but TWO COTTAGES for auction next week!
Hey peeps, I've spotted a rather funky fixer upper in Lincolnshire this time, and it's packed with character and quirky features throughout. With this one you're actually getting 2 in one, as it's made up of a pair of cottages... one with three bedrooms, and the other is a one bedroom.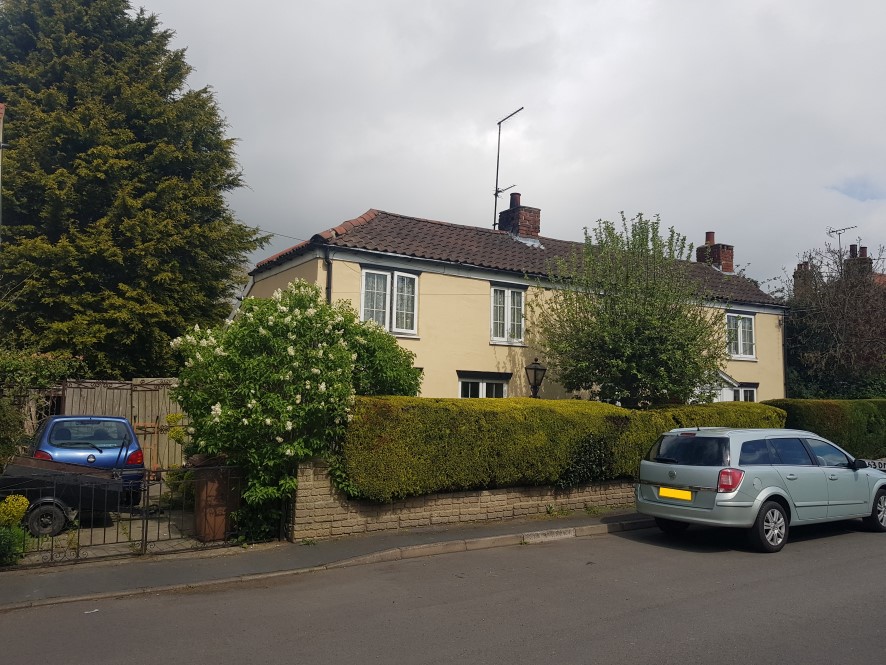 Now, before we continue I should probably mention that while the floor plans of this one make clear that the arrangement is two clearly defined two storey properties, what hasn't been shown as clearly is their positions. The description declares that there may be potential to return these to a single dwelling, so they must be adjoined in some way, but the images themselves don't give anything away to help us identify one or the other. But that said, what I'm seeing in those images certainly wouldn't put me off, they're great properties for sure... so, shall we take a closer look?
Well, from the front you only get a partial view as there's great privacy provided from the front garden via hedge/shrub growth. That isn't stopping us finding out anything at all though, there's a decent size gated driveway to the side, and I'm loving the quaint (possibly wrought iron?) lamp post in the garden at the front of the property. I'm assuming it is there to provide lighting by the front door, but can't be certain of the positioning thanks again to that excellent privacy provided by the hedging. What we can clearly see of the roof, walls, and windows is that it all looks very clean, modern, well maintained, etc. A promising start :)
Moving inside there's a fantastically bright and well lit white galley kitchen. I understant that this layout is maybe not to everyone's taste, especially as there isn't space for a table in there, but the garden can accommodate this in nice weather, and for the rest of the time there is a dining room shown in the floor plans, although unfortunately they haven't included any images for that room. What I've personally always found wonderful about a galley kitchen is how on hand everything is, and the vast quantities of storage and worktop space are a big bonus as well. If you love to bake and create in the kitchen then it can be a big bonus having those extensive worktops close at hand behind as well as in front of you. Another fab feature is the enormous amounts of natural light beaming in from two sides and a total of three windows, which is a great thing if you've kids or grandkids playing outside in the garden, allowing you to easily keep an eye on them while you're getting things done in the kitchen.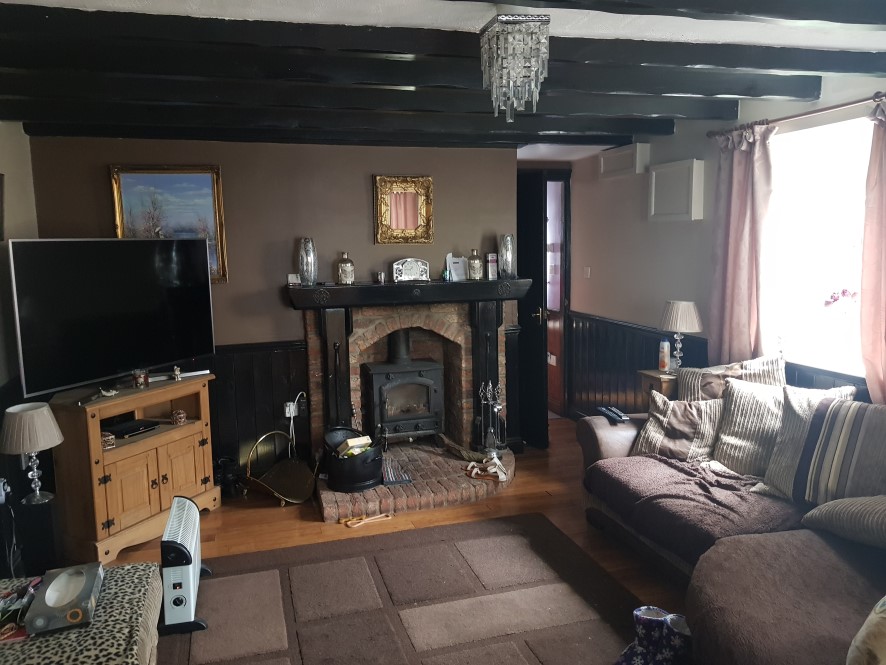 Now, it's on to the lounge next, and my favourite features are making an appearance once again here, with a gorgeous fireplace containing a wood burning stove, plus lovely dark ceiling beams. This is a room that I love! I do feel that the room is a bit darker and therefore smaller than it could be. The paint is lovely, but when paired with that dark panelling on the bottom half of the walls I'm finding it makes those walls close in on you quite a bit. The fireplace is stunning, but it's surroundings don't make as big a feature of it as pale walls and panelling would do. That said, atmospherically I'm still drawn to the room the way it is. Ok, so it might not feel as big as it will with pale walls/panelling, and the fireplace isn't popping the best that it could against the current backdrop, but if the character and atmosphere of a room matters more to you than how big it feels... heck, I say just go for it and do as you please, since the actual room measurements won't change a bit, your furniture will fit regardless of the paint used on the walls, and it's you who needs to love it and live in it so don't worry about what anyone else might think!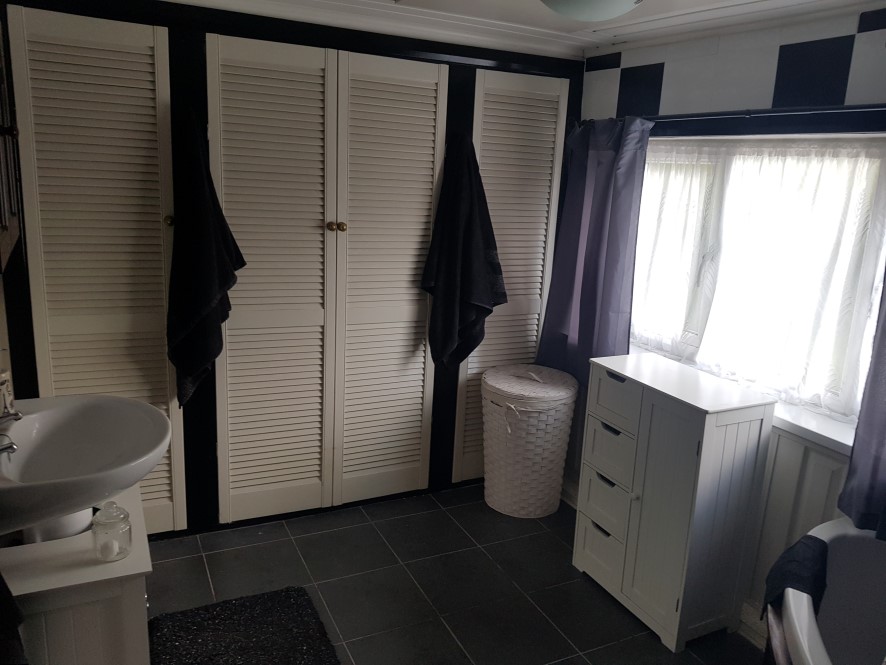 Ok, it's time to head upstairs and check out the bathroom next. Again, it's not an ideal image given, but I'll make do as best I can. I don't think the room is shown at it's best with the photo having been taken looking in from the doorway (I assume)... I'm guessing there's a corner bath with shower on the right, but that's based on seeing about 10% of the bath in the corner of the photo. I'm basing my assumption on the angle, shape of the bit of bath shown and the presence of a shower curtain, so it's not purely guess work on my part, but I'd love to have also seen if there's tiling or a splashback, what fixtures, fittings, and type of shower is installed, etc. I've had to guess there there is a toilet someplace left of the image, and all I can draw from looking at the sink is that it appears modern enough and well enough maintained to not warrant a complete room redo. This is a property described as "for improvement" though, so bear that in mind if you're thinking of bidding without viewing it in person first. This bathroom is definitely a great size though, and it comes with tons of storage and floor space by the look of things... plus, I'm sure it would also benefit from a little redecoration to suit personal taste.
Now, I should probably pause here to remind you that I'm assuming all these rooms I've described so far are in the larger property, but I can't guarantee that I'm placing each room correctly. If it's been done sensibly, and my read of the room sizes/shapes in the pics is correct, then it appears they have shown the large property images first followed by the smaller property. Bear with me, as I think I've definitely got to grips with the interior layouts now, even though I'm still not able to tell externally how they're actually positioned in relation to each other!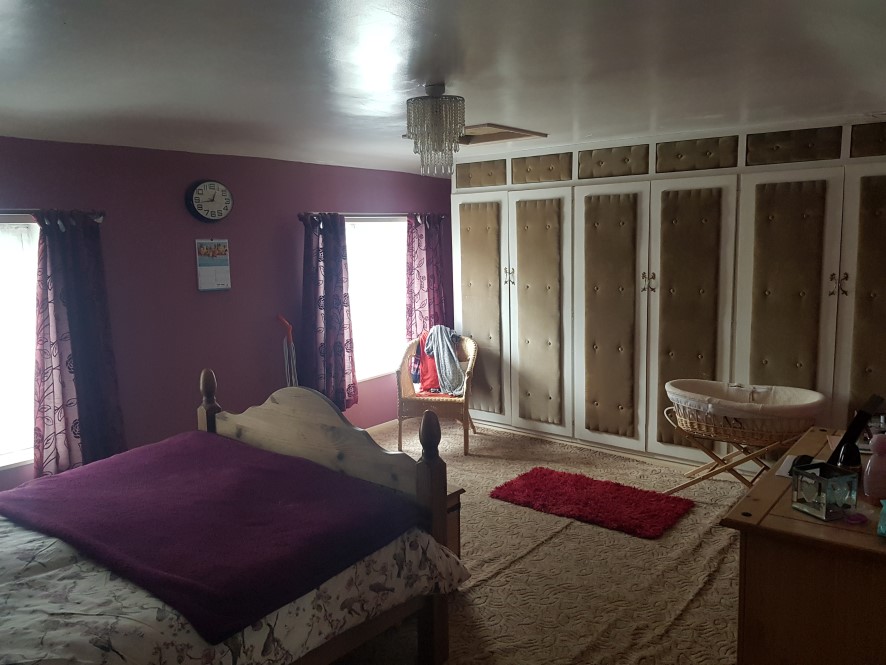 Finishing our tour of the larger property, we have a large master bedroom upstairs, and two much smaller rooms that would suit kids. or perhaps an office in one if that suits your needs better? All I can say about the smaller room that has been shown is that the bunk beds are double size, so it's possible to set one of them up with a double bed and use it as a guest room if that fits your requirements best... but that's all I can tell from the pic given, so lets head over to the much more interesting master bedroom now!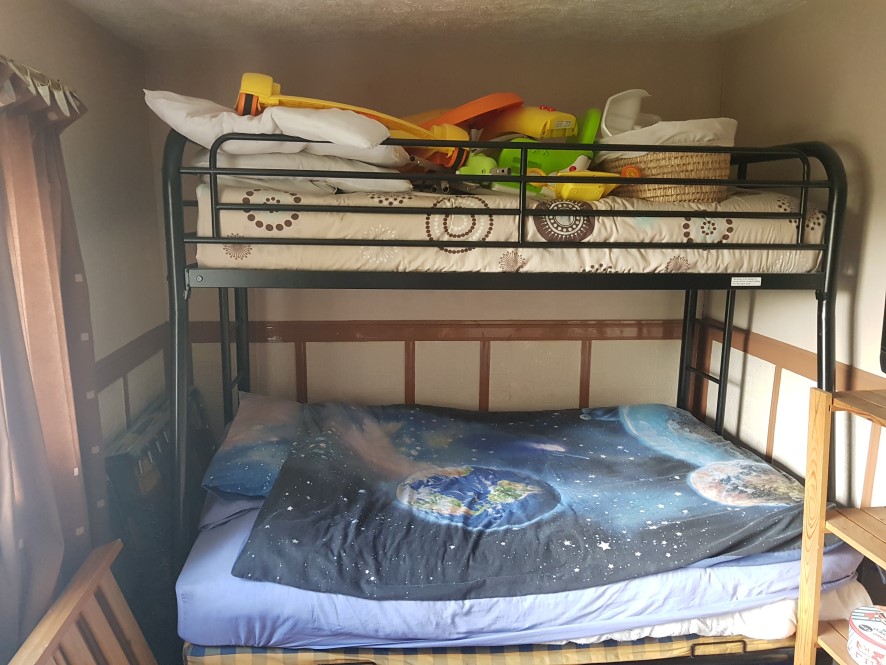 After that fab lounge downstairs the master bedroom is my next favourite room in the property. I know, I know, at least half of you are probably wondering what the heck I'm on about after a single glance at the photo given, and I am certain that those built in wardrobe doors are not going to be for everyone. I personally put them in the kitsch category as I find myself right on the fence between loving and hating them at the same time LOL but I'm thinking they're definitely halfways to something totally stunning. Replace the brown fabric used with something a bit more luxurious in a colour that coordinates with your vision for the rest of the room... maybe replace the button things with a bling or metallic alternative as well, or trim them with something that ties into an overall theme... even replace one in the middle with an antique looking mirror instead? I'm thinking that with an upgrade those wardrobes could be a jaw dropping feature that totally makes the room, and if you're creative yourself then it could easily be done on a very reasonable budget too :o)
Other than that, this is a large bedroom with two good sized windows giving plenty natural light, and it really needs nothing done apart from perhaps a lick of paint to freshen things up and tailor the space to your personal tastes. In this whole three bedroom property I've seen nothing really big required to update things. Lots of places could be freshened up and improved with a lick of paint, and there is that potentially very fun creative updating project in the master bedroom, but I've seen absolutely nothing beyond the keen DIYer wanting a fixer upper home, and it's probably a pretty quick turnover for the investor wanting to fix up and resell or rent.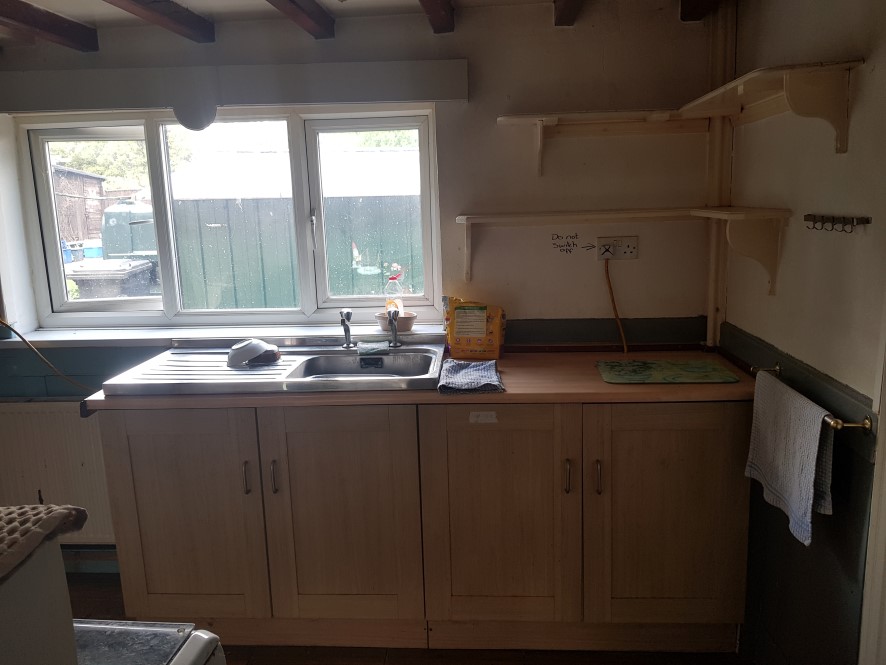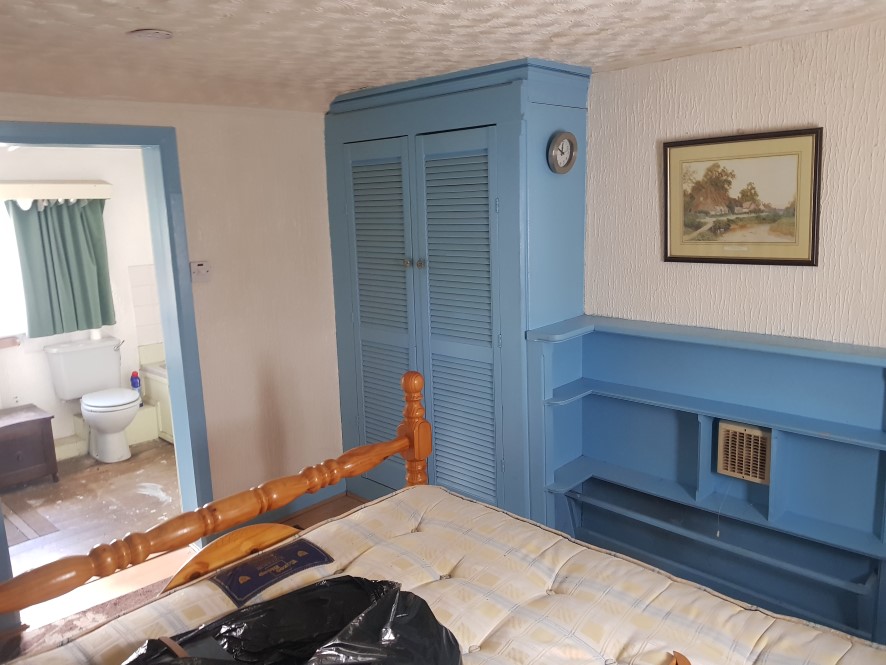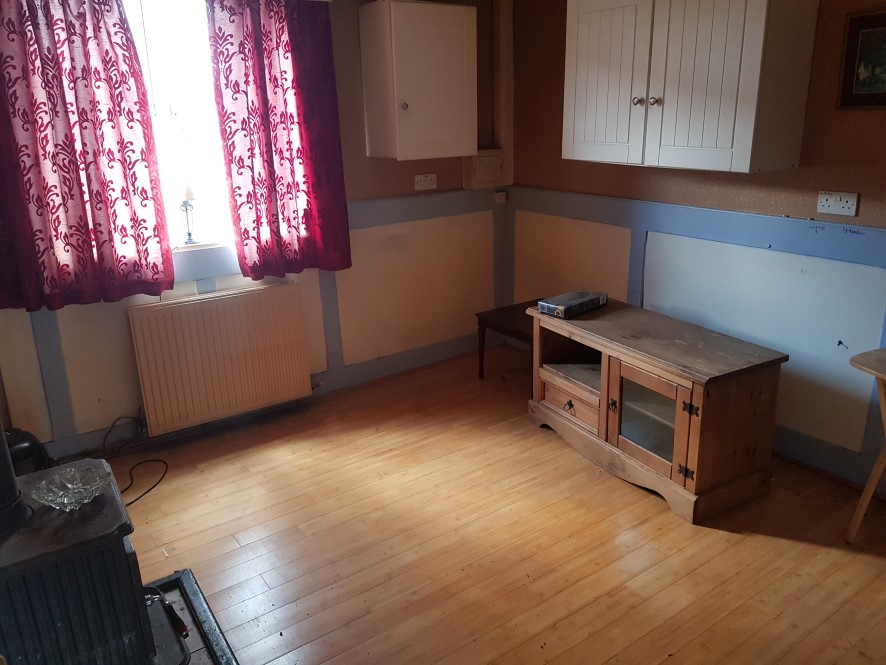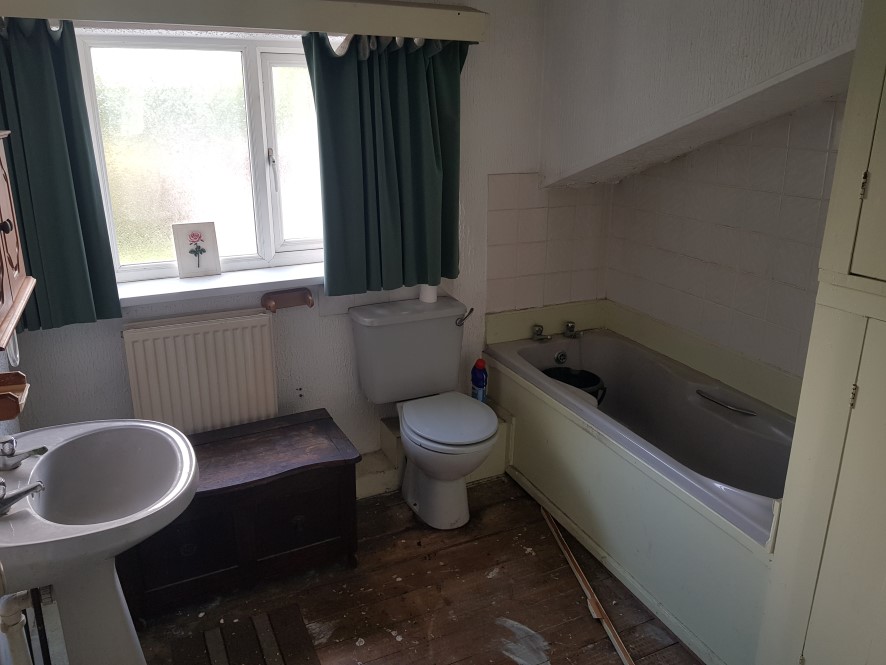 Now, we've one last place still to check out. I'm thinking the smaller one bedroom property may be off to the right of the main property, but I am largely guessing it's position. Regardless, it appears to look out onto the same garden space as the main property. It's compact, but well laid out with good size rooms throughout. Ideal for the dependant relative perhaps, or the grown up kid needing their own space before they can get themselves on the property ladder. It does need a little more work though, and definitely redecoration throughout. Likewise, the kitchen and bathroom could probably do with updating as well. This place feels older overall though, and I do wonder if it's possibly had an older relative residing here... it seems to have stayed the same for much longer than the more modern feeling main property. There's nothing unlivable here though. You could potentially live in this and work on updating one room at a time as it seems functional enough in it's current state.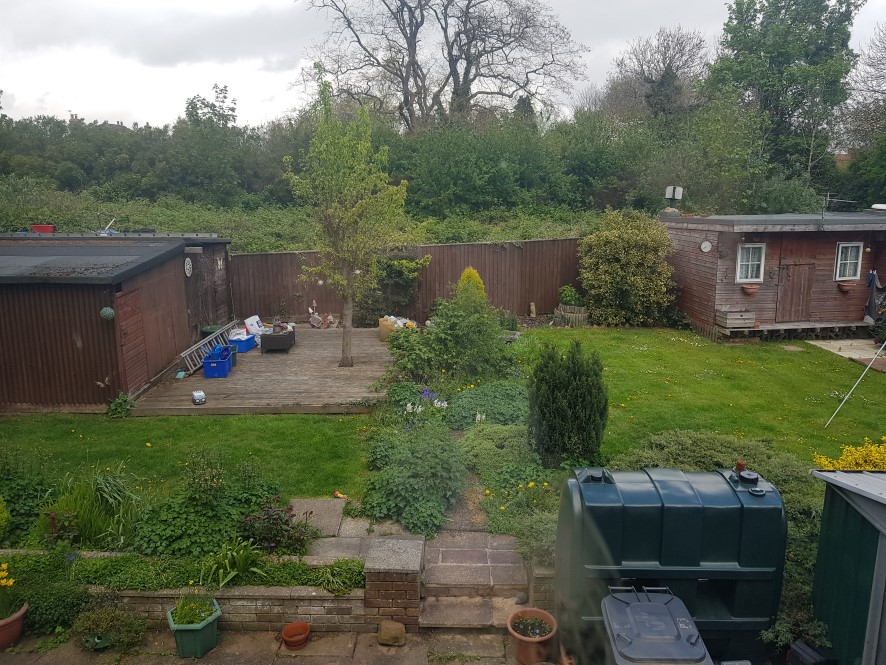 So, what do you think? I'm fascinated by this one. It's a bit mysterious, but very intriguing. I think it's probably one large garden shared by both properties at the moment, and there looks to be sheds/workshops/outbuildings out there that could have a multitude of uses. It's possible that the smaller cottage has it's own area of garden sectioned off, but really you'd need to either make additional enquiries, or be willing to take a chance on what the images show for this one. Even if it's one garden though, it's little trouble to section part of it off if you want to. There's a good amount of info and number of images given I reckon, with minimal blind spots, but as always, we strongly advise to see the property in person before the auction... you don't have long though, this one is at auction next week!
There's a ton of character, a good amount of property, and great size garden on offer here for the price... it's a perfect blend of the opportunity to make your mark while having minimal actual work needing done... it can either accommodate a growing family, or an ageing one with dependant older relative(s) to cater for... or it's an opportunity to update and make a little profit or a rental income perhaps. There's something here for a wide range of buyers, so I expect it will have much interest at auction. A set of properties like these don't come along every day! Oh, and the most important note - it's for auction on 14th August with Auction House Lincolnshire :)